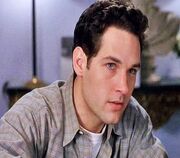 Josh Lucas
is a character on the 1995 film,
Clueless
.
Cher's ex-stepbrother, as Mel had been married to Josh's mother five years earlier. Josh has ambitions to be a lawyer (his focus is environmental law), and during a college break comes for a protracted visit Cher and her father at their house; he claims that being around Mel is a "great learning experience." Throughout the film, Josh teases Cher, but at the same time shows his caring and concern for her. He is based on the Emma character George Knightley.
Dan Hedaya as Mel Horowitz: A gruff and successful workaholic litigator, he is constantly involved in big cases in Beverly Hills, where he lives with his teenage daughter Cher. Despite being divorced from Josh's mother, he tells his daughter "You divorce wives, not children" and is very protective of Cher, telling Christian: "If anything happens to my daughter, I've got a .45 and a shovel. I doubt anybody would miss you."
He's practically Ketsa
Ad blocker interference detected!
Wikia is a free-to-use site that makes money from advertising. We have a modified experience for viewers using ad blockers

Wikia is not accessible if you've made further modifications. Remove the custom ad blocker rule(s) and the page will load as expected.